King of Knights, Alfred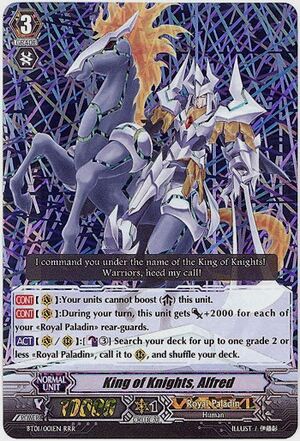 Effect:CONT](VC):Your units cannot boost this unit.
[CONT](VC):During your turn, this unit gets [Power]+2000 for each of your «Royal Paladin» rear-guards.
[ACT](VC/RC):[Counter Blast (3)] Search your deck for up to one grade 2 or less «Royal Paladin», call it to (RC), and shuffle your deck.
Sets:Descent of the King of Knights - BT01/001 (RRR) - BT01/S01 (SP)
BT01/001EN (RRR) - BT01/S01EN (SP)
BT01/001KR (RRR) - BT01/S01KR (SP)
Flavor: I command you under the name of the King of Knights! Warriors, heed my call!
Lore: The strongest knight of the Royal Paladins who was made king. Suitably, he is called the Avatar of Justice, who commands a great army of knights. He always thinks of the people who live in the nation of United Sanctuary first and foremost, and thus always hopes for bloodless battles. He is the one to whom Blaster Blade pledges loyalty, and those who believe in good consider him a hero.
The older and wiser version of Alfred Early.
It is possible this card is based off of a king known as Alfred the Great, maybe even "King Arthur"
Rulings:N/A
History: The original beast deck Alfred Toolbox.